| | | |
| --- | --- | --- |
|   |   | Each year, the proportion of renewable energy used to power U.S. homes and businesses has increased. The U.S. Department of Energy's Energy Information Administration (EIA) releases a monthly electric power report to keep up with this evolving energy infrastructure. This February's report includes milestones for solar development across the nation — growing over 40% in 2017 over 2016­ — solar energy is now the fastest growing segment of energy generation in the U.S. |
In 2015, solar energy represented less than 1% of electricity generated in the U.S. In 2017, only two years later, 1.9% of the nation's power is derived from solar energy alone. Prior energy trends saw the decline of petroleum in favor of natural gas, another fossil fuel. However, this "new era" is featuring solar power as the fastest growing industry without doubt. Much of this growth can be attributed to federal incentives for solar development, such as the Solar Tax Credit. As federal and state policymakers continue to recognize the full value of solar, financial incentives have been driving the industry's growth significantly.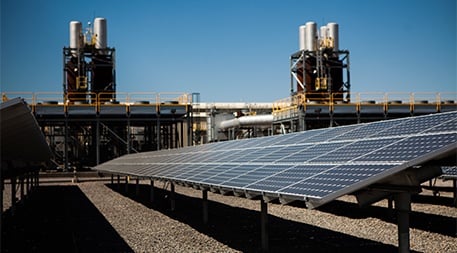 (Source: https://ensia.com/features/will-natural-gas-dim-solars-shine/)
A solar installation the the foreground of a natural gas plant
The report includes similar trends for other renewable as well, with the total amount of non-fossil fuel energy generation now surpassing 37%. Even though solar still comprises only almost 2%, no individual segment out shined solar's 40% year-over-year growth rate. In the U.S., the majority of this still comes from nuclear power. However, the growth of the nuclear industry is relatively stagnant. The way things are looking, global solar capacity may be surpassing that of nuclear in the foreseeable future!